Wild Bird Supplies
Most of us with gardens will have many varieties of wild birds as visitors throughout the year. Our range of wild bird supplies is perfect in ensuring that they are well looked after.
It is very important that we help protect our wild birds by feeding them – not just during the colder months (although this is perhaps the most crucial time of year) but all year round.
We have a variety of wild bird food, ranging from seeds to nuts and mealworms to fat balls – with all of these being particularly useful during the colder months, when food is extremely scarce for our wild birds.
We have also produced a useful guide showing you what foods to feed the wild birds throughout the year, as it does differ from season to season.
When you click the wild bird food link you will  see our range of food, as well as our guide as to what to feed our wild birds during the four season o the year.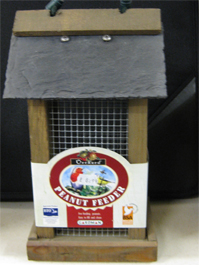 Wild Bird Accessories
We also have a range of wild bird feeders too, to try and protect the bird food from squirrels and larger predatory birds.
There are peanut feeders, suet cages and seed feeders so that you can ensure that the food can be located and housed appropriately.